Currently, our website only transacts in US dollars, Canadian dollars, British Pounds, Euros, and Players Circle points. Certain countries can only transact with Points at this time. Please see the chart below for the countries that can transact on our website and the currencies available to them: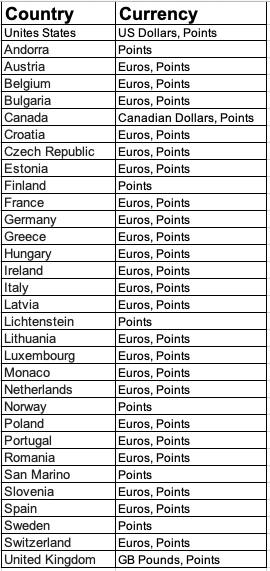 Your shipping country is linked to the country you used when signing up for Players Circle. If you need to ship to a different country, please log out and check out as a guest.
At present, Players Circle is available in the United States, Australia, Andorra, Australia, Austria, Belgium, Bulgaria, Croatia, Czech Republic, Denmark, Finland, France, Estonia, Germany, Greece, Hungary, Ireland, Italy, Latvia, Lichtenstein, Lithuania, Luxembourg, Monaco, Netherlands, Norway, Poland, Portugal, Romania, San Marino, Slovakia, Slovenia, Sweden, Switzerland, Spain, and United Kingdom.
We are always looking to add more currencies and shipping options to our website, as well as expanding the Players Circle program to more countries. However, each country has its own regulations that we must meet before we are able to operate there.